Surprise! Unless something really out-of-the-ordinary happens, chain restaurants will have to list the nutritional information of the foods they serve, beginning on May 5.
Why is this a surprise? Because the menu labeling law is embedded in the Affordable Care Act (ACA) — also known as "Obamacare" — and almost everyone thought the law would be repealed by now as the first order of business following the election of Donald Trump, who campaigned on a pledge to do just that.
We all know what happened. The GOP's replacement proposal failed, thus leaving the menu labeling requirements in effect. But that's just the beginning of the story. Let's examine the menu labeling requirements, who comes under them, and whether the labels will make any difference in encouraging consumers to eat healthier meals.
Which Restaurants Are Affected?
The menu labeling law applies to restaurants and similar retail food establishments if they are part of a chain of 20 or more locations, doing business under the same name, and offering for sale the same menu items at each location. That means regional and national chains such as McDonalds, Olive Garden, Chipotle, Chili's, Morton's, Ruth Chris, Chick-fil-A, and Cracker Barrel. (Calories also must be posted on glass-fronted vending machines that sell food items).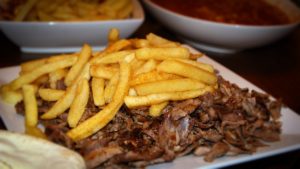 The multiple location specification is important because left out of the mandate are small, typically local eateries — the steakhouses, cucinas, food trucks and barbecue joints that give American cuisine its incredible variety.
What's on the Menu?
The law mandates that the restaurants must clearly display nutrition data on the amount of calories for all the foods on their menus — single items and combination meals. The information can be posted on signs inside and outside the restaurant so that customers can easily see them. In addition, a statement is required on menus and menu boards declaring "additional nutrition information available upon request." That information must include total calories, calories from fat, total fat, saturated fat, trans fat, cholesterol, sodium, total carbohydrates, fiber, sugars, and protein. The statement regarding the availability of the additional written nutrition information must be posted prominently on posters, tray liners, signs, counter cards, handouts, booklets and computers or kiosks. (McDonalds and others are using digital menu boards). Additional nutrition information is not required for foods sold in vending machines.
The FDA also mandates a short statement about daily caloric intake – "2,000 calories a day is used for general nutrition advice, but calorie needs vary." This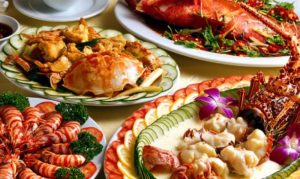 statement is meant to enable consumers to understand the calorie information provided on menus and menu boards within the context of a total daily diet.
Interestingly enough since the menu labeling act was included in the overall ACA seven years ago, a number of well-known restaurant operators moved ahead with voluntary labeling. Yet, with that date fast approaching industry observers say that many operators will not be ready. This is in part due to the complxities of rolling out accurate signage across far-flung operations, But it is also due in part to the election of Donald Trump in Novemeber. Many businesses, not just restaurants, pretty much anticipated Congressional action to overturn Obamacare, which of course didn't happen. But even before the 2016 election, many major chains began labeling their food and, for them, the compliance date will pass unnoticed. The industry's trade association, the National Restaurant Association (NRA), reluctantly supported the labeling law, preferring it over the hodgepodge of state labeling regulations. As a result, there seems to be little appetite, at least for the restaurant industry, to mount opposition to the law.
Will Menu Labeling Improve Consumer Health?
Whether menu labeling causes a change in diet is anyone's guess. Research on the subject is largely inconclusive. Besides, these days food consumers seem more concerned about where the food they eat was grown, processed or harvested. And, too, the law is somewhat of a fait accompli; nutrition information (good, bad and misleading) is readily available online. Still, labels might make a difference to a dad wanting to have his kids eat a healthy lunch as they drive through Wendy's, and dozens of healthier choices have appeared on the menus of fast food outlets. Even the manliest steak places are offering seafood and, god forbid, vegetarian dishes.
Nutritional information on eating out nutrition is widely available — if anyone wants it. It is reasonable to project that over time, as people become accustomed to seeing the amount of calories in a Outback Bloomin' Onion or a mound of Bob Evans mashed potatoes and gravy, they quite possibly could opt for a better, that is, healthier choice.
Or, given decades of ingrained behavior, maybe not.